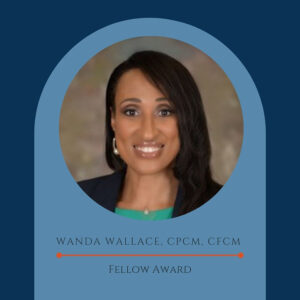 Wanda Wallace, Senior Associate Consultant, recently received the Fellow Award from the National Contract Management Association (NCMA).  
According to NCMA's website, the Fellow designation recognizes individuals who have made significant contributions to the field of contracting and to NCMA. The honor is open to members only.  
"I joined NCMA five years ago primarily to increase my contract knowledge since I'd recently moved into an expanded role with my company," says Wallace. "I never imagined that in such a short period of time that the association would come to mean so much to me—both professionally and personally. Obtaining professional certifications (CFCM and CPCM) and completing the Contract Management Leadership Development Program (CMLDP) not only enhanced and broadened my skill sets but also enabled me to gain an enormous network of brilliant and dedicated professionals, many of whom I can call close friends."  
NCMA has also offered Wallace the opportunity to share her knowledge through mentoring and serving on local and national committees to help strengthen the organization for other members. In addition, she has written two articles that were published in NCMA's Contract Management magazine, which is a huge honor.  
Ms. Wallace was one of nine recipients of the Fellow Award, which requires candidates to submit an application and is chosen based on 11 categories of service. The honor is the second-highest award given by NCMA. Program Year 2023 awards were announced at the NCMA's World Congress, which was held July 17 – 20.  
"The past five years have culminated in my receiving the Fellow Award, which is both humbling and gratifying," says Wallace. "It is a privilege to be a member of such an esteemed association, and I owe a major part of my professional success to it." 
For more information about how we can support your government contract compliance efforts, please click here. 
To learn more, visit https://www.ncmahq.org/events/world-congress.