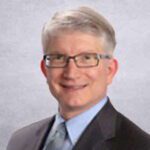 LBG is pleased to announce that Dr. Bob Huebner, Principal Consultant, will participate in a panel at BioKansas' Community Forum entitled "Accelerating Biologics: The Market Landscape and Engineering Advancements" on October 21. He was invited to speak about the current biologics landscape and the future direction of the industry before the panel begins.
Dr. Huebner is an experienced biotechnologist with more than 30 years of experience with viral and microbiological pathogens and expertise in the biologics industry, pandemic preparedness, group management, and program management. He supports both commercial and U.S. government-funded programs as a subject matter expert on biopharmaceutical advanced development, analytical testing, strategic planning, and program management.
Hosted by BioKansas—of which LBG is a member and a 2021 sponsor—this informative event offers the opportunity to explore trends in the biologics industry and engineering advancements. The mission of BioKansas is "to lead the effort of supporting and growing Kansas' bioscience ecosystem, including bioscience research, commercialization, training, and business development."
For more information, visit Community Forum Biologics – BioKansas.