Written by LBG's Dan Vest, "Avoiding Conflicts of Interest," was recently published in Contract Management magazine.
The article focuses on new legislation regarding Organizational Conflicts of Interest (OCIs), which was passed in December 2022 and will become effective in June 2024.
"OCIs have been in the spotlight during the past two years due to a lack of guidance,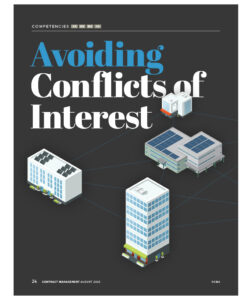 training, and well-defined legislation to assist contracting officers and contractors to proactively identify, prevent, and mitigate potential and actual OCIs," says Mr. Vest. "On April 13, 2022, the Committee on Oversight and Reform U.S. House of Representatives issued a staff report that McKinsey & Company had various OCI violations, including overlapping and conflicting work for FDA and opioid manufacturers. McKinsey frequently staffed consultants on both FDA and opioid manufacturer projects at the same time, increasing the risk of biased advice to federal officials who were hired to help reduce the nation's opioid addiction crises.
"The McKinsey case triggered the passage of Preventing Organizational Conflicts of Interest in Federal Acquisition Act. Once the FAR Council makes its revisions to the FAR, it will require contractors to implement OCI policies and procedures, internal controls, training, and compliance programs. This will put contractors at a higher risk of noncompliance if they do not adopt an initiative-taking approach to manage any potential or actual OCIs while performing under government contracts."
Since many subscribers rely on Contract Management magazine to keep up to date on regulations that impact their industries and businesses, Mr. Vest was excited when his proposal for an article about this important trending topic was accepted for publication.
"I hope my article conveys the importance of government contractors being proactive with the implementation of OCI policies and procedures, internal controls, training, and compliance programs to mitigate the risk of OCI violations and noncompliance," he says.
Read the complete article here.
Contract Management magazine is the flagship publication of the National Contract Management Association (NCMA). The award-winning magazine features articles about best practices, professional insights, lessons learned, and much more.
To learn more, visit Contract Management Magazine (ncmahq.org).
***This article is republished with the permission of the National Contract Management Association from its August 2023 issue at www.ncmahq.org/CMMagazine.